About the band
A six-piece Celtic Rock band playing covers from all genres with vocals and bagpipes, playing large functions to theme nights, New Years eve parties and international events. With a prime slot on the Glastonbury Croissant Neuf Stage in 2019 (where Ed Sheeran made his Glastonbury debut), and their album 'Any Time It Rains' released in June 19, Wight Hot Pipes are really making their mark. Hailing from the musically-creative shores of the Isle of Wight, Wight Hot Pipes are an internationally acclaimed six-piece band who commanded a standing ovation at the BBKing Club in Broadway Manhattan in 2017.
Diverse and eclectic, Wight Hot Pipes deliver a mix of musical genres which fuse in their melodic melting pot to create an exhilarating cocktail of flavours; spanning the entire spectrum from celtic all the way through to contemporary dance and gritty rock. With original pennings and covers including 'Starlight' and 'Galway Girl' the album, 'Any Time It Rains' is a 13-track collection that will leave you feeling energised and invigorated.
But it's the sheer twist of bagpipes within their instrumental line-up that kicks the roof out of every venue they play. This, combined with the genius talent of lead singer, Tori, that give WHP absolute stand-out. Thought you knew bagpipes – think again! Wight Hot Pipes just brought the pipes smashing into rock music with an edgy attitude that ignites the room and whips up nothing short of euphoria. Their image and sound screams out from the sea of other bands, and Wight Hot Pipes are carving an indelible print onto the experiential journey of their ever-growing audience – once seen and heard, the charisma and the band is never forgotten. Wight Hot Pipes have taken piping to the next level – the Wight Hot Pipes revolution is coming, embrace it!
Kieron (Piping Hot Doc)
Founder member of Wight Hot Pipes with the vision to create an eclectic unique band of musicians alongside the sound of pipes. Incorporating unique arrangements of cover songs alongside the band's own compositions. Piping rock has never been so good!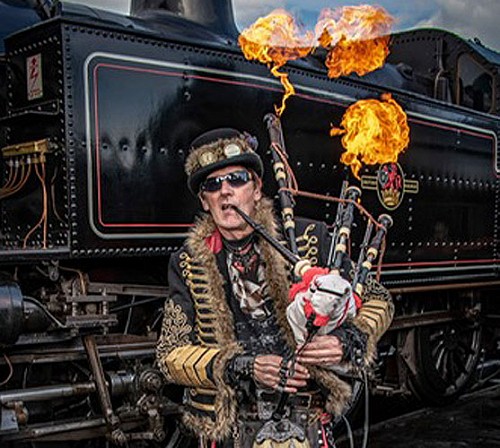 Tori (Vox) Blain
The voice of WHP and second percussionist, Tori views herself as a happy accident for the band and has been on a steep learning curve since joining them in 2010. She admits to feeling excited but a little nervous still before a gig, smiling but with knocking knees! Not that you would know this once the kilt and boots are on and the music starts. Although a keen traveller Tori is happiest on her Island home. She has an interesting array of pastimes; motorcycles, kayaking, caving, mountain biking and abseiling to name a few! Our action girl has done several charity parachute jumps and has participated in the London Bikeathon. Tori counts herself lucky to have a diverse ancestry of some note and enjoys exploring her ancient European family tree, blaming this for her cosmopolitan tastes and love of shoes (which is almost on par with her love of cake and flying saucer sweets!) Big hearted, quick witted and fun loving you can't help but catch her infectious smile.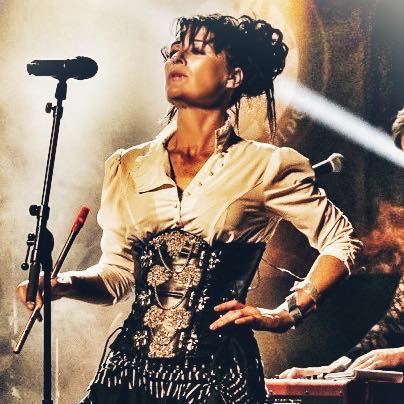 Andrea (McFingers)
Having rekindled her interest in keyboards after a number of years, Andrea has brought her own ideas and style to the band. A complete task master at rehearsal, full of enthusiasm and ideas, she'll often sit behind the drum kit to have a little play, she is also the proud owner of a full size piano accordion – as yet she still hasn't gone near the pipes though! She is a keen sportswoman and a competent sailor, taking part in several sporting events each year. Funny, creative and the voice of reason are only a few of the qualities she has brought to the band, it goes without saying that her quirky sense of humour makes her feel right at home with the rest of us.
Gavin Scovell
A fabulous guitarist of 25 years experience. Started playing at school to get out of science lessons and been playing in bands ever since. Biggest love is The Beatles, and drives his wife Sam nuts with all his guitars cluttering up the home pad. Gav's guitar influences include Bon Jovi, Richie Samora and Mark Knopfler.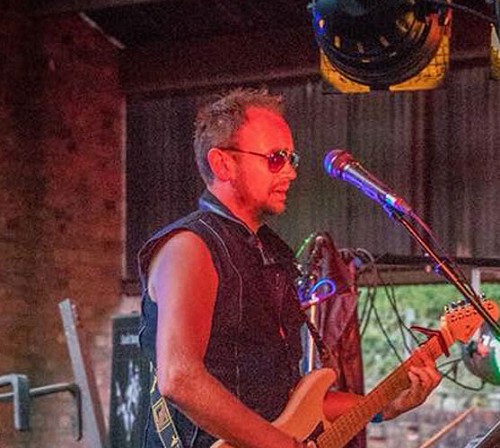 Sonny
Smiling Sonny, our newest member, and how happy are we to introduce this fabulous bass player to our unique genre of bag rock. Sonny has a great musical heritage and has been playing alongside our Shaun in a rhythm section team for many years before merging talents in Wight hot Pipes. A great fan of mystery meats feasts and you'll always find him hanging around the haggis when its that time of year too!
Shaun
Our talented singer, songwriter, bass player and drummer. Wight Hot Pipes is lucky to find such a talent. Meet the man writing and mixing music for Wight Hot Pipes.